---
Welcome to the Herefordshire Bat Group's web pages. Whatever your feelings about these flying mammals please read on.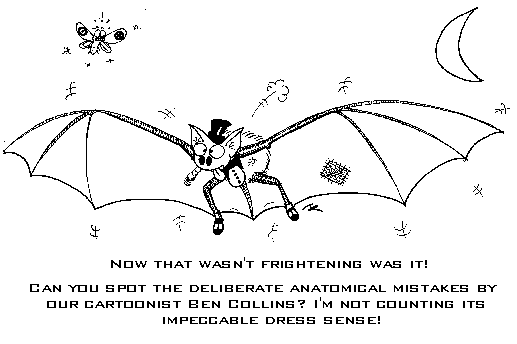 This group is in its infancy so there is plenty of room for new ideas and suggestions. We are part of a network of over 95 bat groups across Britain, and are affiliated to the Bat Conservation Trust.

Aims & Objectives -
To increase positive public awareness - introducing people of all ages to bats and to the need for their conservation.
To monitor and record feeding areas, roosts and hibernacula - thus increasing our knowledge of bats in this country, allowing a baseline distribution map to be drawn up, enabling an efficient conservation programme to be put in motion.

The first aim is really a two way process. We need to know what you would like to know! We want to promote these fascinating animals so tell us how you feel a section of our community could learn more. Please use the electronic form to let us know your thoughts.
The second aim requires your help to locate these important areas. Any sighting of bats is welcome - you don't need to know where they roost. Bats can be spotted anywhere from a town garden to a secluded hedgerow.
You may wish to take a more active role in helping to find out more about Herefordshire bats, and thus contribute to the National Bat Monitoring Programme. Why not become a member of the group? .
We are actively involved in the Herefordshire Biodiversity Partnership, which is being led by the Herefordshire Nature Trust.
The Herefordshire Bat Group project was, for the first two years of its rebirth, supported by the Bristol Zoo Millennium Awards for Conservation, with the help of the Millennium Commission. For more details go to the Members page.
If you have an immediate query, that can not wait for us to respond, such as what to do with an injured bat then please call the Bat Help Line on 0207-6278822. This is a national service run by the Bat Conservation Trust in partnership with the Peoples Trust for Endangered Species and funded by English Nature.
---
Introduction | Chronicle | Members | What's On | About Bats | Bats In Law | Species | Map | Scrapbook | Links | Feedback | Contacts

http://fly.to/hereford_bats/index.htm
© Rebecca Collins, 1999